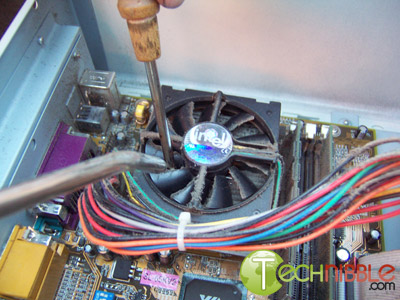 Theresa is rich—not so much with money or material assets—but certainly with intelligence, imagination, and a relentless commitment to share. She is my older sister—by adoption, that is; I decided that she should play that role in my life and true to her own character she readily and happily agreed. We met through an ad, which she had written and published on craigslist, calling for volunteers to donate their time to an organization called ByteWorks. The ad, like Theresa, expressed an openness that encouraged anyone, anywhere, of various shapes, skill-sets, and sizes to join in the fun. We're a community, after all. Let's join together and collaborate!
Theresa describes herself in less romantic terms. When I asked her what motivates her to spend a substantial amount of time and energy working on grass-roots informal education programs she explained, "I'm a total butthead and can't work within the system and deal with politics." She added, "The only way I can know I'm making a difference is to go out and make it." The thing is though…these days Theresa isn't just donating her time and energy by joining an already existing program, she is actually in the midst of developing and piloting a program for girls that is designed to give them the opportunity to practically experience their own abilities to explore, tinker, and problem solve. The program: Girls Can!
What is Girls Can!? It's not about telling girls they are smart and capable, it's about creating a space in which girls are given the opportunity—including access to mentors—to experience their own abilities. The Girls Can! program links high school girls between the ages of 14 and 18 with adult mentors, who with a very light touch provide the girls with guidance and support as they build their own computers from scratch. Yup, from scratch.
Since its inception in November seven girls have joined the program at St. Elizabeth Academy, where Girls Can! is being piloted. The girls participate when they can—some join for an hour and a half during time allotted for elective studies or study hall, others join after school, and now—Theresa just initiated Saturday hours—some join twice a month on Saturdays. Essentially, despite the girls busy schedules and the limited amount of time they are able to attend Girls Can! sessions, all seven girls have already collaborated to build one computer—which they jointly agreed to raffle off to raise funds to be used to purchase more components—and four girls have built themselves computers. More components were recently delivered and the other three girls in the program will soon build themselves their own computers.
What does this mean? It means that the girls in the program—in a very short time indeed—go from "looking at a box of expensive electronic components thinking 'I can't touch that'" to digging into the box of components, tinkering with various parts, and building an operational computer. Most importantly, the girls are developing learning attitudes that enable them to transfer the skills they're developing to other topics of inquiry. Theresa has noticed this shift in the girls' thinking, and states that they are learning "the skills to take a good look at it [any problem] and figure it out, get rid of that 'I can't do it' fear. Once they get that it will benefit them wherever they go."
Any other results? Well, at a time—adolescence—that is infamous for dramatically altering girls' relationships with their fathers, the girls in the program have reported that "my dad wants to know how I'm building this." Older girls have told Theresa that their "boyfriend wants to know all about it." In short, Theresa laughs, "Dads want to know [the computer's] specs and the boyfriends are jealous." This is an empowering lesson for girls at a time that is too often marked by a loss of power, as the pressure to be cute and not too smart is pressed onto them. They are learning that "you can be confident, you can be smart, and people aren't going to think less of you for that, in fact, they may even think more of you."
One participant told Theresa during her first Girls Can! session that when she is older she plans on being a nurse or working in a hotel. These days her goals have changed substantially. In the short-term she is applying for a part-time job at a local computer center because "she feels confident to deal with and talk about technology." In the future she plans to attend Washington University, where she intends to study bio-informatics. Eh?! Girls Can!!!!!
Other folks have noticed the tremendous and positive influence the program has had on participants: the school's teachers and administrators. The principal is so impressed by the difference she has recognized in the participants' learning attitudes that she is currently working to establish Girls Can! as a for-credit elective course in order to provide more girls with the opportunity to attend the sessions on a regular basis. The program has also caught the attention of another community-based organization that has expressed interest in linking up with Girls Can! to build computers for a women's shelter in St. Louis.
Telling them "you're smart" isn't enough, says Theresa. "I'm not telling them anything. They are learning by doing" and as a result they independently recognize that they are capable, smart, and interested.
If you are interested in establishing a Girls Can! chapter in your school, community center, or living room, or would like to contact Theresa to learn more about the program, feel free to contact her via email at tmk@girls-can.org.